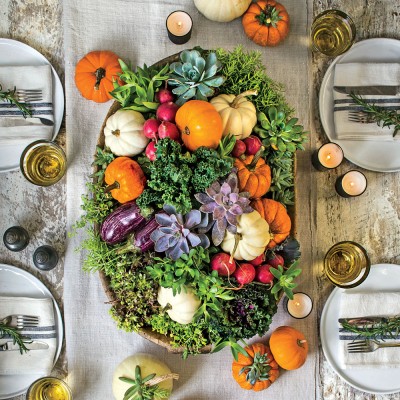 Between the holidays and the colorful autumn changes outside, fall is a popular season for decorators. Looking for some inspirational ideas for your own home? Check out what we've compiled
Made From the Heart; Homemade Decorations
We buy beautiful store-bought decorations just about every year, but they can never quite capture the sentiment that goes into a homemade piece of décor. Every year the best decorations are the ones that are made by hand with the help of friends and family. Who can forget making turkeys with handprints or carving up a pumpkin with your own creative touch? Break out the scissors & glue, time to have fun!
Bring the Fall Foliage Indoors
Colorful autumn leaves are a beautiful way to bring the outdoors in whether you are using real or artificial foliage. Leaves are also extremely versatile and can easily be affixed with a few drops of glue. The dollar store is a great spot for inexpensive seasonal crafts.
Make a Modern Cornucopia
The cornucopia is a classic symbol of a bountiful fall, but modern details can provide an interesting twist. How about an edible cornucopia for example? We found a fun way to turn your centerpiece into a conversation piece, once you're done chewing that is!
Create a Candy Corn Tree
Turn fall's most popular candy into a delicious display. There are lots of creative ways to use colorful candy corn in your fall décor, but our favorite is the candy corn tree. Pick a few interesting branches from your own yard and fire up your hot-glue gun. Glue pieces of candy corn to the branches like miniature leaves. Fill a vase with the remaining candy corn and anchor the branches inside for a fall-inspired bouquet.
Paint Pumpkins Instead of Carving Them
Carving a pumpkin seems old-school to all the new options available today. Paint, gems, feathers, appliques and characters on sticks. Quite honestly this idea appeals to us because it's a much less messy and a somewhat simpler way of dressing up pumpkins. Check out some of these great finds at Target.
What to do with all the decorations when the season is over?
Superior Moving has an assortment of boxes and materials for you to pack things up until next season!